Ordering a lot of cards via the website can be time-consuming so we want to make it as easy for you as possible.
Before you start, make sure to send us an email to support@cardsplug.com so we can provide you with a discounted price for a large order as this is something we do.
The easiest way is by completing our bulk order spreadsheet with all the information for your cards.
You can find the spreadsheet here: https://docs.google.com/spreadsheets/d/1WWmICzsTOScmqlQ10Tfzq7agiTzrT3EDH_39XxdLZmo/edit?usp=sharing
First, you must create a copy of the spreadsheet by clicking FILE and then MAKE A COPY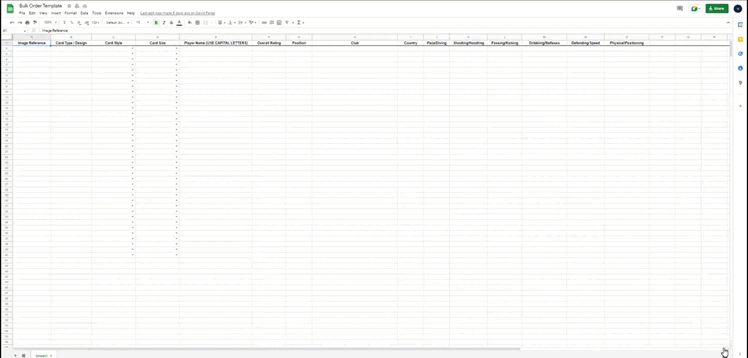 After this, you can begin to complete the spreadsheet with the information for each card you want us to create.

Once you have entered all the required information we will need you to gather all of the images for the cards into one folder so you can then send them along with the spreadsheet. Make sure that the spreadsheet contains the correct image reference so we can match them to create your card.
When it comes to sending us all of the information, it's very simple. To share the spreadsheet click the green SHARE button in the top right and make sure the setting is set so that ANYONE WITH A LINK can view the document and then COPY THE LINK.
When you have the link, simply paste it into your email message and send it to us along with your images.
To share the images with us you can use google drive, wetransfer.com or a simple zip file via email will do as well.
SHARE > CHANGE SETTINGS > COPY THE LINK.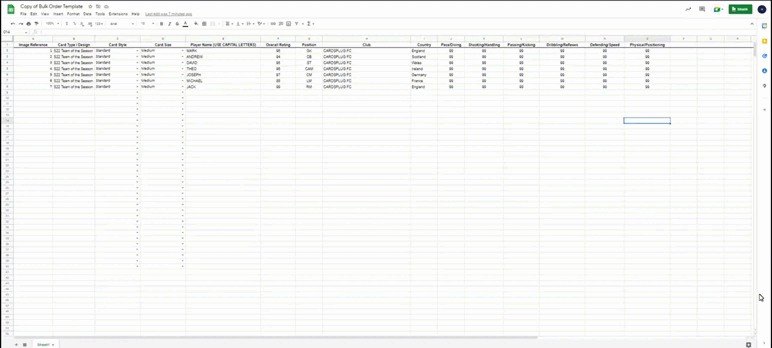 Once we have all the information and images we will simply send you a payment link for you to complete and the rest is down to us. We will begin designing your cards for you.